The Coolest Hotel in Canada - January 2003
From the first time I read about The Ice Hotel, I knew it was something I wanted to experience. I'm not sure why I thought it would be interesting to spend a night in a hotel made entirely out of snow and ice, but I'm always attracted to unusual experiences. The original is in Sweden, but that's a little far to go for a weekend trip. Quebec is considerably closer. I was furiously busy so delegated the arrangements to a travel agent. The plan was for flights to and from Quebec, a night at the Ice Hotel, a dogsledding excursion and a night in Quebec. Most of that happened.
There aren't any non-stops between Washington, D.C. and Quebec, so my flight up was via Toronto. Canadian immigration and customs has always been low hassle in my limited experience. The Toronto airport, on the other hand, is one of my least favorite airports. I didn't have any checked bags, which saved quite a bit of time. That allowed me more time to be annoyed at the general lack of decent signage and to attempt to get Canadian dollars from an ATM. The latter was futile, as the network was, apparently down. The hop over to Quebec was short, though crowded. The Quebec airport isn't much, but did have a functioning ATM.
I'd been advised to take a taxi to the Ice Hotel. Getting a taxi was no problem. However, it cost roughly half again as much as the hotel had said it would, and the driver got lost on the way. Still, I did get there eventually and went up to the reception. Which was fairly chaotic with three women at the desk shouting into phones in French and English, while simultaneously trying to handle the evening's hotel guests. I did eventually succeed in checking in - at which point I learned that the dogsledding reservation had never actually been made. I wasn't completely surprised since my travel agent hadn't managed to get anything in writing regarding it. I am starting to think that there really aren't any dogsleds in Canada, as I hadn't managed to go dogsledding in Churchill, Manitoba either. Other people at the Ice Hotel claimed that they'd gone, but I never saw any evidence of it.
Anyway, you store your luggage in a store room in the (heated) lodge building. Then you can wander around the Ice Hotel, which is really quite dramatic. The exterior is more or less just big blocks of ice, covered with snow.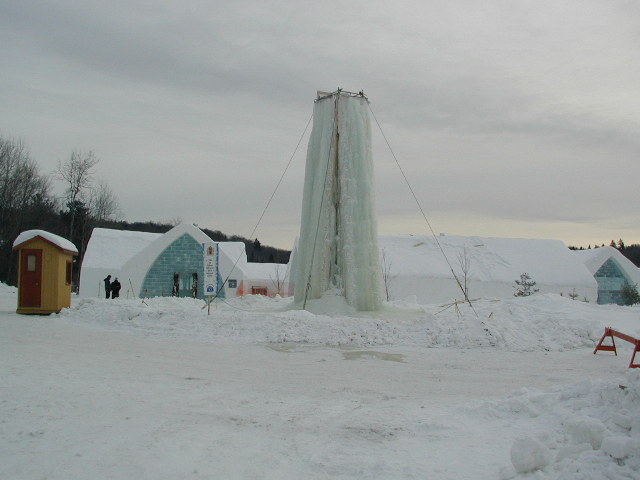 But the interior includes several elaborate rooms, as well as a couple of long galleries full of ice sculptures.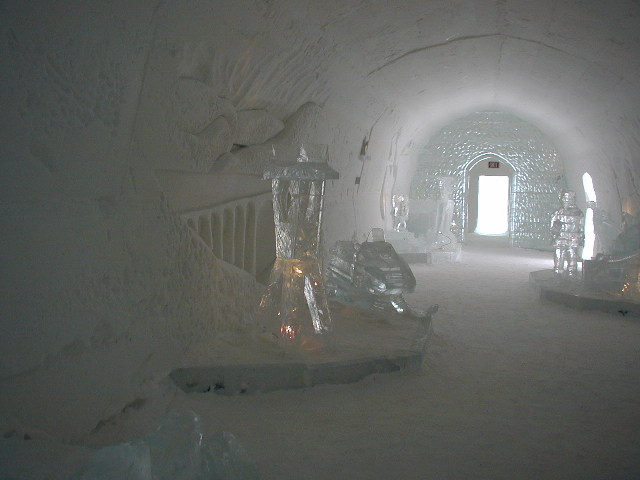 There are a number of theme suites, which also have intricately carved ice sculptures. One of my favorites was an Asian-themed room which featured this ice pagoda.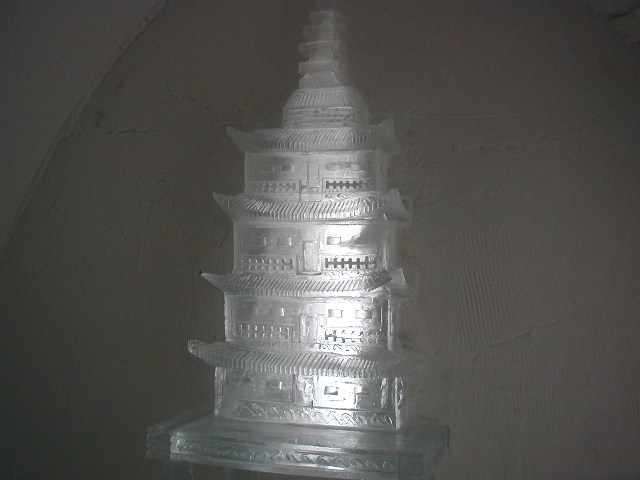 I was also very fond of a courtyard full of penguin sculptures.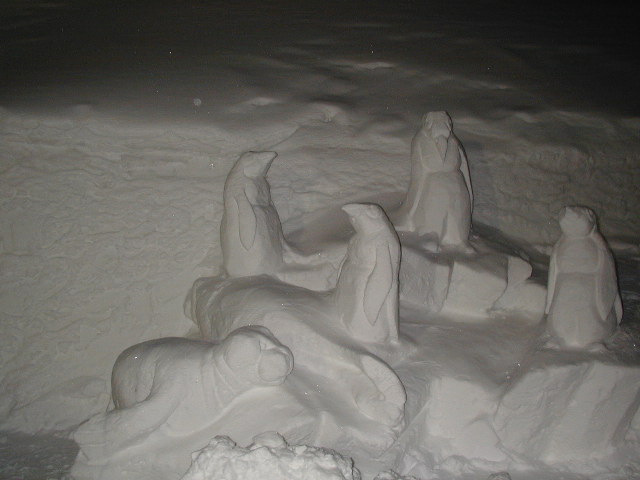 The package price includes a welcome cocktail - Absolut vodka, served in a glass made entirely of ice. You get your choice of flavored vodkas and the mandarine I opted for was quite drinkable. But you don't really want to have more than that one drink, since alcohol lessens your tolerance for cold. Nor would you particularly want to risk having to get up in the middle of the night! I might as well mention here that the bathrooms are in a separate, heated building. There are limits to what even I'll deal with. I'll also note one other minor disappointment. Namely, the outdoor jacuzzi was not up and running yet. I've been to natural hot springs surrounded by snow in the past (in the Lake Tahoe area, in case you wondered) so this wasn't a huge let-down, but it does suggest that it might be better to go to the Ice Hotel a bit later in the season, rather than the week after opening. (They were also still adding on rooms, which was interesting to watch.)
Dinner is also included and is served at the main restaurant of the Duchesnay Resort. There's an extensive prix fixe menu and you get an appetizer, soup, main course and dessert. The food was very good, with the salmon I had for the main course being particularly notable. By the way, should you be in Quebec and just wish to eat at the restaurant, the prix fixe menu is about CDN 25, which is quite reasonable.
At about nine p.m. everybody gathers in the Ice Hotel lodge building for an explanation of what to do for the night. Basically, this consists of a demonstration of how to get into the sleeping bag and an admonition not to wear too much clothing as sweating will make you feel colder. After being handed maps to our rooms, we all get our overnight things, collect our sleeping bags, and bravely head off to bed. My room, which was one of the standard ones, was far more prosaic than the ornate theme suites. But it serves just as well to explain what the experience is like.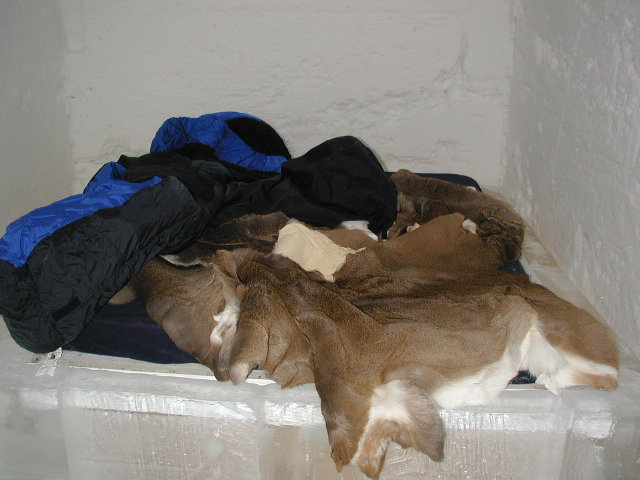 The bed is a block of ice. On top of that, there's a thin sheet of plywood, which is, in turn, topped with a foam mattress. Finally, there's a pile of pelts. I think they're reindeer pelts, but I wouldn't swear to it. The sleeping bag goes on top. Ideally, you sleep in a pair of long underwear and a hat. You take off your pants, down to your underwear bottoms, wriggle into the sleeping bag, and then take off your upper garments. Eventually, you pull the sleeping bag hood around your face and try to persuade yourself that this is a sane thing to do.
Actually, it isn't nearly as insane as most of my friends thought. Sure, the room is only about 20 degrees Fahrenheit. But the sleeping bag is really really warm and I was pretty cozy. The only part of my body that got cold was my nose - not surprisingly, as that was the only part of my body that was exposed to the air. I tried pulling my hat down over my nose, but that wasn't remarkably effective either. Perhaps a balaclava would work better.
At any rate, I did manage to get about six hours of sleep, which isn't much worse than I usually manage. There were a few people who gave up in the night and went up to the lodge, so that is always an option. The real catch came in the morning as I attempted to find where I'd put my glasses - a search that meant not putting on my gloves. The bigger shock of the morning came when I went to wash up. Sure, the bathroom is heated. But my toiletries bag had been in that ice room with me - and my toothpaste was frozen solid!
The package price also includes a buffet breakfast. After which, there was still time to toboggan down the hill (in lieu of dogsledding) and to browse the gift shop before taking a shuttle bus to downtown Quebec. Winter being the low season, it is possible to get quite good hotel rates in Quebec and I took advantage of that to stay at the extravagant Chateau Frontenac.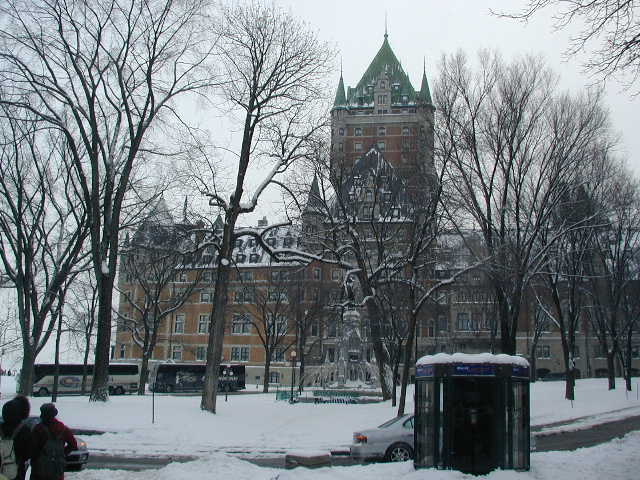 This very elegant hotel was built as a railway hotel in the late 19th century and is, allegedly, the most photographed building in Canada. I was pleased to learn that the guest rooms are as nice as the public rooms - something one can't really take for granted. The location is very convenient, too. After leaving my luggage in the room, I set off to walk around the city. Quebec is the only walled city in North America and is remarkable for its architectural unity. It's also bloody cold in January. Overall, I found the city quite attractive and I'd like to walk around it more - but not in winter! I thawed out some at the Musee d'rt Inuit Brousseau. The museum arose out of a private collection of Inuit art and is arranged more or less historically. I was particularly interested in a video showing a few modern Inuit artists at work. While my taste in art runs more to other regions, I did find the museum worth an hour and a half or so.
It's worth mentioning that another good reason to go to Quebec is food. I had dinner at Aux Anciens Canadiens in the 17th century Maison Jacquet. The prix fixe menu at CDN 15 (a bit less than 10 U.S. dollars) gets you soup, a main course, dessert, and a glass of wine or beer. There appear to be any number of other restaurants that offer similar value. In fact, I chatted with a couple from New Hampshire who come to Quebec for a week each winter specifically to enjoy the restaurants.
Overall, this was an interesting getaway, but I'm not sure I'd recommend it to most people. The Ice Hotel is quite expensive and is probably better visited as part of a winter sports vacation at the Duchesnay Resort (which has a "normal" hotel, as well), rather than on its own. You can also avoid the expense by just purchasing a tour of the Ice Hotel, rather than staying there, though the experience of sleeping on the ice is what gives one real bragging rights. The city of Quebec is easier to recommend, though winter is not the optimal time for enjoying it. On the other hand, it did make northern Virginia feel positively balmy by comparison.
---
Copyright 2003 Miriam H. Nadel

last updated 13 April 2003
Send comments to mhnadel@alum.mit.edu